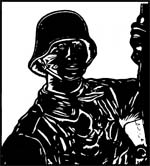 Established in 1990 WWB offers out of print military, aviation and naval books , manuscripts, diaries, maps and photographic material for sale.
Whilst our stock covers all periods from Napoleonic to the Gulf war, we always have an excellent coverage of World War One and the Second World War. Other areas we regard as particularly strong are the German Army, Army and Navy Lists and Military manuals.
Catalogues are issued every 3-4 months and are free to customers. See the catalogue ordering page to join our mailing list. Each catalogue normally has a section of manuscripts, diaries, maps and photographic material as well as printed books.
Our objective is to continue to provide an excellent personal service to our customers, offering unusual and sought after material at realistic prices.
World War Books attend a number of important Fairs and Exhibitions around the UK and organise specialist Military, Aviation and Naval Bookfairs in London, Chatham, Malborough and Tunbridge Wells (see our Fairs page)

We are very keen to purchase good quality books and particularly ephemera including photo albums, scrapbooks, manuscripts, trench maps. We are always interested in any quantity, single items or collections and will travel anywhere to view and collect, if necessary.

We make every effort to help customers find the book they require and are happy to add wants lists to our files.

A selection of our stock can be found on abe Books...

[click here to list all of our books online at abebooks.com]